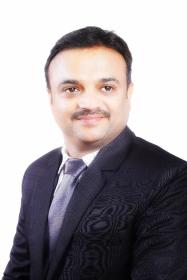 Ameeth Vorra
Author, Entrepreneur, Investor, Trader.,
With over 12 years of experience in the Indian Financial markets, I had been associated with institutions like LKP Securities Ltd, and Marwadi Shares and Financial Ltd. I am a SEBI Registered Research Analyst and offer unparalleled services in both training and advisory. 

Recently I started my own company called "TIGRIS ASSETS". I am the founder of the company. 
I have been an active trainer in the subject of technical analysis and trading for over 5 years. I personally conduct offline and online workshops on RSI and Price Action.

Ameeth Vorra has 12+ years of experience as a trader, investor, and portfolio builder. He also has 5+ years of experience as a trainer in stock market technicals. He has a MBA Finance degree from Pune University.

Prior to founding TIGRIS ASSETS, Ameeth worked as a Freelance Technical Analyst with LKP Securities Ltd. and Marwadi Shares & Finance Ltd. Apart from that, he also worked full-time with Dalal Street Investment Journal(DSIJ) as a Senior Technical Analyst.

He has written various articles on technical and investment theories including his deeply researched technical tool "Relative Strength Index", which were published in DSIJ's monthly magazine (published on Pan-India basis) as well as in the local newspapers.

Ameeth is also a profound educator having conducted several interactive sessions and workshops, with many of them attended by more than 100 professional traders.
His mojo is to dive deeply into Technical Studies and understanding the Scalability & Sustainability of the business model of the company. This has enabled him to develop his USP of picking multi-bagger stocks.
Ameeth is also a wildlife enthusiast and you will often find him on wildlife safaris in various parts of India.